Developments in employee involvement and participation
Involvement and participation are forms of employee voice, and seen as an essential part of successful businesses, with Acas citing employee voice as one of the levers of workplace productivity.
These learning resources explore how the use of employee involvement and participation have developed, reflecting changes in the wider business context and the role of trade unions. In the audio clip (to the right) HR tutor Andrew gives an overview of the purpose and content of this learning, and below is a summary of how this fits with the CIPD units.

1. Involvement and participation defined
Taylor and Woodhams (2016) describe employee involvement and participation and being the two main forms of employee voice. They go on to explain that employee participation is where employees participate in organisational decision-making through their representatives, using practices such as partnership working, joint consultation committees and employee forums. This is contrasted with employee involvement, where management introduces practices directly with employees in order to gain their ideas and co-operation. Employee involvement practices can therefore include email communications, management briefings, suggestion schemes and newsletters.
From this simple definition we can see one the main differences between involvement and participation, in terms of their direct and in-direct nature. The content below explores the differences in more detail by providing additional definitions and making use of dimensions provided by Lewis.
Taylor, S. and Woodhams, C. (2016) Human Resource Management: People and Organisations, London, CIPD.
Employee Involvement
Gennard and Judge (2010) explain that employee involvement focuses on individual employees and is designed to produce a committed workforce, more likely to contribute to the efficient operation of the organisation.
Gennard, J. and Judge, G. (2010) Managing Employment Relations, CIPD, London.
Dimensions of employee involvement
Sometimes the terms employee participation and employee voice are used synonymously.  However, there are important differences between the approaches.  To illustrate the differences, Lewis, Thornhill and Saunders (2003) offer a useful summary of the dimensions of each. The figure below outlines the dimensions for employee involvement.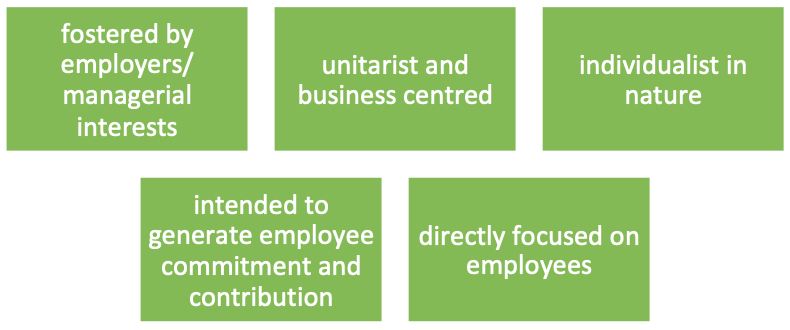 Employee Participation
According to Gennard and Judge (2010) employee participation is, in contrast, about the extent to which employees, often via their representative are involved with management in the decision-making systems of the organisation.  These systems focus on collective representative structures.
Dimensions of employee participation
Lewis et al (2003) present the following list as a summary of the dimensions of employee participation.
Lewis, P., Thornhill, A. and Saunders, M. (2003) Employee Relations: understanding the employment relationship, Harlow, Pearson Education Limited.
2. The involvement and participation context
Various contextual factors have affected, and indeed continue to affect, involvement and participation. A reduction in trade union membership, along with a shift in the role of trade unions in the workplace has had a marked impact on workplace participation in particular. In the audio clip Andrew explains this and other contextual factors and refers to statistics demonstrating the change.
Terms and conditions fixed through collective bargaining in 2010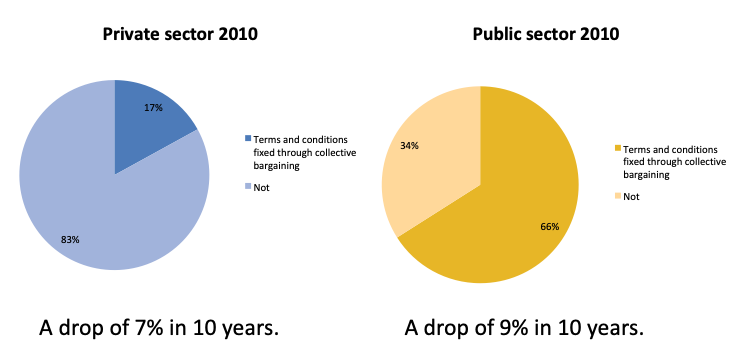 Levels of trade union membership in 2010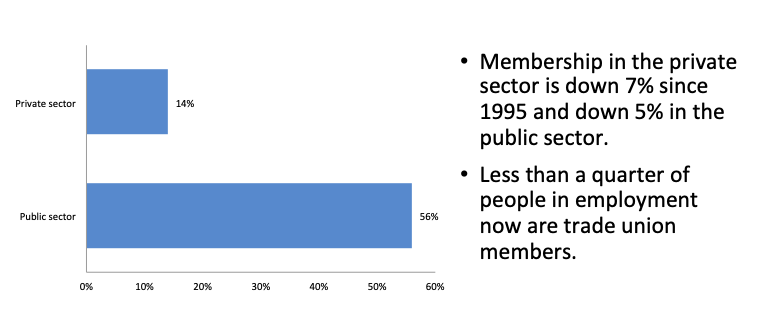 3. Filing the representation gap
Voice and Participation in the Modern Workplace: challenges and prospects. This Acas Policy Discussion paper was written by John Purcell and Mark Hall, of the University of Warwick. The paper explores direct involvement and communications methods of employee voice and making consultation effective in non-union companies. Purcell and Hall consider how effective these approaches are and how they might be improved in the future.
Activity
Click on the image on the left to download the paper from the British Library website. Read this and make a note on the following points:
1.What does the paper say about the importance of employee voice and participation?
2.What alternatives can fill the representation gap?
3.How can organisations increase the effectiveness of employee voice practices?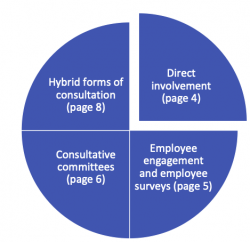 4. Increasing effectiveness
The acas paper highlights a number of ways of increasing the effectiveness of employee voice practices:
Management must be prepared to share information on plans and options for change in time for employee representatives to consider questions and how to respond.

A wider range of issues should be discussed – financial performance, strategic plans and HR policies. 'Tea and toilet' issues shouldn't clog the committee.

Senior managers need to be regular attendees at consultative committee meetings, drawn from line as well as HR positions.

Employee representatives need to be able to develop a collective voice which adequately reflects the views of employees but can provide leadership in dealing with big issues.

The link between the work of the consultative committee and direct forms of communication and involvement need to be understood.

Consultation has to be supported by a culture of mutual cooperation and trust.
andrewwales_lod@btinternet.com