Forms of conflict behaviour and dispute resolution
Conflict in the workplace can take many forms and these learning resources explore different aspects of conflict behaviour how this might be resolved, including the role played by line managers.
In the audio clip (to the right) your HR tutor Andrew gives an overview of the content and below is a summary of how this fits with the relevant intermediate CIPD unit.

The literature about conflict in organisations is wide-ranging.  Early research regarded conflict as being just destructive. Contemporary views generally regard conflict as both constructive and destructive. Additionally, studies now consider how social relations, organisational culture and structure can shape the forms that conflict and conflict management take.
The word 'conflict' has no universal meaning.  Rahim (2002, p. 207) offers a helpful definition that regards conflict as:
'an interactive process manifested in incompatibility, disagreement, or dissonance within or between social entities (i.e., individual, group, organization, etc.)'
Conflict is an integral part of the employment relationship. Traditionally, conflict at work is associated with collective industrial action, such as strikes.  However, today's organisations are dynamic and complex, made up of people with increasingly diverse backgrounds, opinions, values and expectations about work. In contemporary organisations conflict is more associated with individual rather collective forms, expressed as grievances, absences, resignations and complaints to employment tribunals (Taylor and Woodhams, 2016).
Taylor, S. and Woodhams, C. (2016) Human Resource Management: People and Organisations, London, CIPD.
Different forms of conflict
Organised conflict – such as strikes – usually occurs on a collective basis. This type of conflict can be official if it has been organised by a trade union, or unofficial if it has not been formally approved by a trade union. Unofficial organised conflict tends to be unlawful although frequently short-term (for example, a group of employees may instigate a go-slow for part of a working day in order to demonstrate their discontent, before returning to normal working practices).
Unorganised conflict or misbehaviour can occur on an individual and/or collective basis. For example, if an individual or group of employees is dissatisfied with an organisation's decision to make employees redundant, they could damage property belonging to the organisation as an expression of their discontent.
Willams, S and Adam-Smith, D (2010) Contemporary employment relations: a critical introduction, 2nd ed. Oxford: Oxford University Press.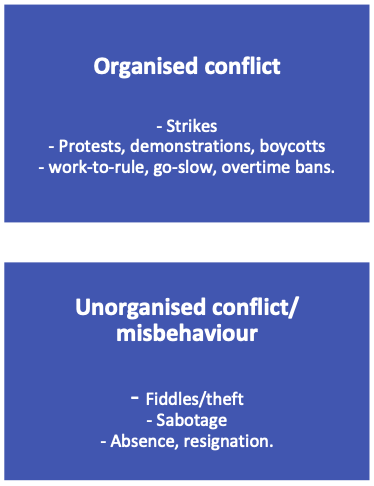 The latest CIPD report on Managing conflict in the workplace provides insight on different aspects of conflict, including its sources.
Activity
On the right is a link to the CIPD report. Read section 4 – The extent and nature of workplace conflict (from page 11) and make note of the following:
What are common causes of conflict in the workplace and who are we most likely to clash with?
What behaviours might individuals display in a conflict situation?
What impact does conflict have?
*This is a really useful and insightful report and we'll be using other sections of this later on.
Employee misbehaviour, also known as unorganised conflict, is conflict that occurs on an informal basis, either collectively or individually, and is expressed as inappropriate behaviour, such as sabotage (Williams and Adam-Smith, 2010).
It's commonly accepted that organisations expect employees to do a number of things at work; however, these expectations aren't always met. Sometimes, employees behave in ways that are inconsistent with the organisation's expectations and norms or behave in ways that constitute unconventional practices or in general, do things that they are not supposed to do while at work. This behaviour may be overt or hidden.
Vardi and Weitz (2004) argue that employee misbehaviour is universal, suggesting that "most, if not all, members of work organizations, throughout their employment, engage in some form of misbehaviour related to their jobs, albeit in varying degrees".
The dynamics of the employment relationship and employee behaviour is complex. Employee misbehaviour can take many different forms, and although often under-reported, constitutes part of organisational reality (Sackett and DeVore, 2001).
Employee misbehaviour can be put into three broad categories, each based on the underlying intention of the misbehaving individual (Vardi and Weitz, 2004):
Misbehaviours intended to benefit the self: these are mostly internal to the organisation and usually harm the employing organisation or its members.
Misbehaviours that primarily intend to benefit the member's employing organisation as a whole.  For example, falsifying records to improve chances of obtaining a contract for the organisation.
Misbehaviours that primarily intend to inflict damage and be destructive. Targets of these behaviours could be both internal and external.
Sackett, P. R., and DeVore, C. J. (2001) Counterproductive behaviors at work in N. Anderson, D. S., Ones, H. K. Sinangil, and C. Viswesvaran (Eds.), Handbook of industrial, work and organizational psychology, pp. 145–164, London, Sage.
Vardi, Y. and Weitz, E. (2004) Misbehaviour in Organizations, New Jersey, Lawrence Erlbaum Associates.
Williams, S. and Adam-Smith, D. (2010) Contemporary Employee Relations: A critical introduction, 2nd edn., Oxford, Oxford University Press.
Handling employee misbehaviour
The Employment Rights Act 1996 (ERA) is the main legislation relating to disciplinary matters. It contains most of the legislation applicable to the individual rights of employees, including the right not to be unfairly dismissed. Of course, not every incident of employee misbehaviour will result in a dismissal, fair or unfair. 
All organisations, large or small, should have written disciplinary procedures. The procedures form part of the conditions of employment within the organisation. The Acas Code of Practice 1: Disciplinary and Grievance Procedures provides guidance to employers on the content and operation of disciplinary rules and procedures, and the Acas Guide – Discipline and Grievances at Work – gives good practice advice. In unionised environments, the procedures must be agreed by the trade union(s).
Employee misbehaviour varies in seriousness. Nevertheless, whatever the misbehaviour, managers should seek to be fair and consistent in their approach. Importantly, no two incidents are the same, and consequently managers must take account of the circumstances before them. Depending on the circumstances, a manager may decide that an informal discussion is more appropriate than formal disciplinary action.
The CIPD Factsheet: Discipline and grievances at work provides an overview of the disciplinary policy and practice. Read the factsheet.
http://www.cipd.co.uk/hr-resources/factsheets/discipline-grievances-at-work.aspx
Industrial action is often used as a generic term which can cover a broad range of actions by employees, with or without trade union support, to bring concerted pressure on an employer to do or refrain from doing something.  Organised conflict, such as strikes, typically happens on a collective basis.
Watch this short video in which Acas' former Chief Conciliator Peter Harwood talks about the sort of issues that cause workplace disputes.
Common types of industrial action include:
Strike: There are two different definitions of strike in different pieces of legislation.  Therefore strike is defined both as:

'any concerted stoppage of work' (Trade Union and Labour Relations (Consolidation) Act 1992 section 246), and
'… the cessation of work by a body of employed persons acting in combination, or a concerted refusal, or a refusal under a common understanding, of any number of employed persons to continue to work for an employer in consequence of a dispute, done as a means of compelling their employer or any employed person or body of employed persons, or to aid other employees in compelling their employer or any employed person or body of employed persons, to accept or not to accept terms or conditions of or affecting employment' (Employment Rights Act 1996 section 235(5)).

Work-to-rule: Employees follow the strict conditions of their employment contract – no voluntary overtime, no participation in supporting activities.
Overtime ban:  Employees refuse to work overtime. This can have a substantial impact on production ability during periods of peak demand, but is ineffectual as a bargaining tool in quieter periods.
Go-slow: Employees work at the slowest or least-productive pace that is allowable under their employment contracts.
The cost of industrial action
Arguably, industrial action can result in a better long-term relationship between employer and trade unions; and a dispute that is settled might improve the deal earned by employees. However, lengthy industrial disputes are likely to lead to problems and costs. These might include, for example, lost sales and profits from the lost output; potential loss of jobs if the action results in action to cut cost; for employees, a risk that illegal action will result in legal proceedings; and so on.
In 2009-11 British Airways cabin crew held a long running dispute with BA which resulted in 22 days of strikes.  BA responded by withdrawing travel perks. The overall cost of the industrial action to BA was £150 million.
5. Resolving disputes - the role of managers
Managers play a key role in most aspects of the people function and this is very much the case when it comes to resolving disputes and conflict.
Activity
The CIPD report Managing conflict in the modern workplace (link to the right) includes a section on how well managers manage conflict (section 9, page 37 onwards). Read this and make notes on the following points:
What different aspects of managing conflict are managers involved in?
What does the research say about managers' effectiveness in these areas?
How can HR support managers?
andrewwales_lod@btinternet.com