The benefits of coaching and mentoring
There are many benefits to coaching and mentoring and these go beyond the individual being coached or mentored. These learning resources aim to explore the benefits of coaching and mentoring to individuals, the coach/mentor and the organisation. In the audio clip (to the right) HR tutor Andrew gives an overview of the purpose and content of this learning, and below is a summary of how this fits with the CIPD units.
Whilst there are some similarities, it's important to remember that coaching and mentoring are different practices and these differences may affect the benefits. You may find it beneficial to refresh your knowledge on the principles of coaching and mentoring first.

1. Why evaluation matters
In this session we will be exploring the potential individual and organisational benefits of coaching and mentoring. Firstly, let's consider why evaluating the contribution of coaching and mentoring is important.
The deployment of coaching arrangements is now embedded among employers as a widespread development tool and performance management technique. Indeed the flexibility and, when delivered optimally, relatively low cost of these techniques makes them a particularly appropriate learning intervention for difficult or uncertain economic times. However, though now maturing as a routine aspect of management and learning and development, there is still a lack of understanding about how best to use coaching and mentoring and in which specific situations such arrangements will be most effective.
Like any other learning and development intervention, coaching and mentoring have resource implications, for example, the time spent by employee undertaking the activity, the cost of an external coach, and so on. Individuals and organisations will be keen to know the return on their investment. Also, any new development initiative requires evaluation to identify methodological and other weaknesses.
When the coaching or mentoring programme is formulated and prior to implementation, a detailed evaluation strategy should be developed and employed.  The CIPD research report Coaching: the evidence base (CIPD, 2012) suggests that the popularity and widespread proliferation of coaching throughout organisations means those managing and delivering coaching need to engage more with the evidence base that demonstrates how coaching works. It goes on to suggest that an evidence-based approach to coaching should be based upon:
critically appraising coaching interventions
understanding the scientific basis of evidence and integrating its practice-relevant insights
linking coaching assignments with key organisational data and metrics
reflecting on these and integrating stakeholders' concerns and suggestions.
This discussion highlights the need for more evidence-based research. Also, as with any research, it's important be cautious when interpreting the evidence – for some studies the sample numbers are small and there may be questions about the robustness and design of some studies.
2. The benefits of coaching
Activity
Before reading the content in this area, take a few minutes to record your initial thoughts on the benefits of coaching to coachees (the person being coached), coaches and organisations. You may want to represent this as a pie chart or Venn diagram, which you can add notes to from the content that follows.
As stated the introduction, it's beneficial if you have a clear understanding of what coaching is and its similarities and differences to mentoring. For a refresher, see the relevant learning resources.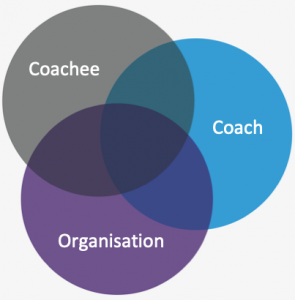 Benefits of coaching for the coachee
There are various research studies that explore the benefit of coaching for coachees.
The ILM (2011) report 'Creating a coaching culture' identified a variety of benefits including improved self-awareness (43%), increased confidence (42%) and improved business knowledge and skills (45%). Other benefits identified include improvements in communication and interpersonal skills, leadership and management, conflict resolution, as well as preparation for a new role or promotion.
The benefits of coaching are also widely acknowledged in a survey by the Association Resources Centre and PricewaterhouseCoopers (2009).  2165 coaching clients from 64 countries reported improvement in:
Self-esteem/self-confidence (80%)
Communication skills (72%)
Interpersonal skills (71%)
Work performance (70%)
Relationships (73%)
Work/life balance (63%).
CIPD's sixteenth annual Learning and Development survey (CIPD, 2014), examining current practices and trends within learning and development, reported increased use of mentoring and coaching within the organisations surveyed. This strongly suggests that both individuals and organisations are seeing tangible benefits.
Association Resources Centre and PricewaterhouseCoopers (2009) ICF Global Coaching Client Study, Lexington, International Coaching Federation.
CIPD (2014) Learning and Development Annual Survey Report 2014, CIPD, London.
ILM (2011) Creating a coaching culture, ILM, London.
Benefits of coaching for the coach
Often the line manager is the coach and research conducted on behalf of CIPD (Anderson, et al., 2009) highlights the close links between coaching by line managers and factors such as manager self-confidence and manger-team-relationships. As a result, coaching by managers can be part of a 'virtuous circle'.  Coaching results in better manager-team relationships and improved levels of manager self-confidence. At the same time, these factors also tend to encourage managers to engage more often in coaching behaviours.
The research also found that age, gender, qualifications or length of experience of managers make no significance difference to levels of manager self-confidence, manager-team member relationships or attitudes towards training and support. This suggests that all managers have an equal chance of being able to develop these qualities and characteristics.
Anderson, V., Raynor, C. and Schyns, B. (2009) Coaching at the sharp end: the role of line managers in coaching at work, London, CIPD.
Benefits of coaching for the organisation, and the achievement of organisational objectives
We can see from our discussion about the benefits of coaching for the coachee and coach, including the line manager as a coach, that coaching can potentially support the achievement of organisational objectives, for example, through increased knowledge and skills, improved relationships, better communication, and so on.
At a basic level an individual's performance will be influenced by those around them and for them to prosper it is necessary to build awareness of the needs of everyone working together in order to have a positive effect on achieving individual and organisational goals. Coaching builds on this concept of interdependence within the organisation and encourages people to think about the extent to which their performance and behaviour is influenced by others and vice versa, which will help raise awareness and contribute to improved organisational and individual performance.
Research and case studies indicate that coaching can work but a number of contextual factors need to be in place and each organisation needs to design their coaching activities to fit their particular culture and business circumstances (Anderson, et al., 2009).
Anderson, V., Raynor, C. and Schyns, B. (2009) Coaching at the sharp end: the role of line managers in coaching at work, London, CIPD.
3. The benefits of mentoring
Activity
As with coaching, it's worth taking a few minutes to record your initial thoughts on the benefits of mentoring to mentees (the person being mentored), mentors and organisations. And again, you may want to represent this as a pie chart or Venn diagram, which you can add notes to.
When explaining the main differences between coaching and mentoring I often refer to where the knowledge is in the relationship. The core process of coaching is about helping the individual work the answer out for themselves, using questioning and reflection. Whilst the process and skills employed in mentoring may be similar, the main characteristic of a mentor is that they are more experienced and knowledgeable and mentoring is therefore often about passing on or transferring that knowledge.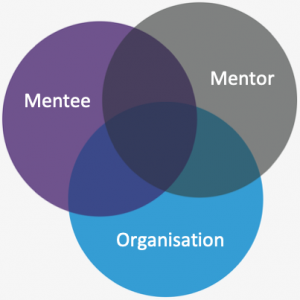 Benefits of mentoring for the mentee
There are a number of studies that explore the benefits of mentoring for the mentee. For example, in 2009 Sun Microsystems (Dickinson, et al., 2009) released the results of a study that explored the value of mentoring. The study examined the financial impact of mentoring and how Sun could target its spending in this area. The researchers looked at data from more than 1,000 Sun employees over a five-year period. The study concluded that mentoring has a positive impact on mentors and mentees, producing employees that are more highly valued by the business.
The study also found that 25 percent of employees in a test group who took part in the company's mentoring programme had a salary grade change, compared with five percentof employees in a control group who did not participate in the program. Mentors were promoted six times more often than those not in the program; mentees were promoted five times more often than those not in the program. In addition, retention rates were much higher for mentees (72%) and mentors (69%) than for employees who did not participate in the mentoring program (49%).
Individual mentees potentially gain a host of benefits from the mentoring process, including: 
Gaining an insider's perspective on navigating their career
Having someone to bounce ideas off
Receiving constructive feedback
Providing exposure to diverse perspectives and experiences
Greater knowledge of career success factors.
Developing a sharper focus on what is needed to grow professionally within the organisation.
Dickinson, K., Jankot, T. and Gracon, H. (2009) Sun Mentoring: 1996 to 2009, MentoPark, Sun Microsystems Inc.
Benefits of mentoring for the mentor
Participation in workplace mentoring relationships is associated with a wealth of benefits for mentees. Until recently, there have been few studies which have considered the potential benefits that mentors might derive from the mentoring relationships. 
One piece of recent research by Ghoshand Reio (2013) has sought to explore and synthesise studies investigating the benefits of mentoring for mentors within workplace mentoring relationships. The results revealed that compared to colleagues who did not mentor, individuals who acted as mentors in their workplace reported greater job satisfaction and commitment to the organisation. In addition, higher quality relationships were associated with even greater benefits.
Interestingly, the research looked at different types of mentor support – psychosocial, career and role modelling – in relation to positive mentor benefits. The study found that all types of mentor support had positive benefits but that distinctions also emerged. Mentors who engaged in career support perceived that they had greater career success, mentors who engaged in psychosocial support reported being more committed to their workplace, and mentors who engaged in role modelling support reported better job performance.
Ghosh, R. & Reio, T.G. (2013) 'Career benefits associated with mentoring for mentors: A meta-analysis', Journal of Vocational Behavior, Vol. 83, pp.106-116.
Benefits of mentoring for the organisation, and the achievement of organisational objectives
A significant piece of research was conducted by researchers in the Mentoring and Coaching Research Unit at Sheffield Hallam University. Researchers looked at the benefits of mentoring across all sectors – public, private, large, small, voluntary and not-for-profit. The study looked at more than 100 research papers from the US and Europe.
The researchers classified the benefits into four broad categories:
Business performance and policy implementation
Motivational benefits
Knowledge and skills development
Managing change and succession.
The study showed that the majority of cited benefits relate to the mentee but that the business and mentor benefits are not too far behind:
Benefits for the mentee – 40 %
Benefits for the business – 33 %
Benefits for the mentor – 27%.
We can see from the 'business' benefits listed above that mentoring can potentially support the achievement of organisational objectives in a number of ways. The image to the right shows the ranking of these benefits.
Clutterbuck(2014) identified further ways in which mentoring can contribute to the achievement of organisational objectives. These include:
Significant impact upon recruitment and retention
Effective succession planning
Makes organisations adapt to change
Increased productivity through better engagement and job satisfaction.
Clutterbuck, D. (2014) Everyone needs a mentor: fostering talent in your organisation, 5th edition, London, CIPD.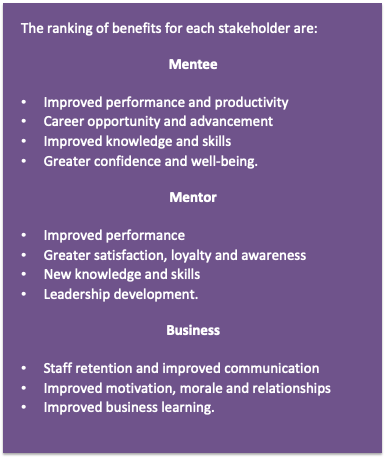 andrewwales_lod@btinternet.com